To our valued colleagues, clients, and candidates: The following is an excerpt of a letter provided to Recruiting in Motion employees in light of the recent anti-racism rallies and protests throughout North America. At Recruiting in Motion, we believe in diversity and inclusion and we stand in solidarity with everyone who share our beliefs in […]
Read More
Updated July, 2021 The COVID-19 pandemic has affected countless individuals and businesses across North America and the world. Local and federal governments are implementing programs to assist many of us through these difficult times, as we all try to stay safe by following precautionary measures and advice recommended by public health authorities. In an effort […]
Read More
Job interviews routinely include a few trick questions. They appear like riddles in a fantasy story. To make it past the wizard's lair, you need to handle queries like "what are your biggest weaknesses" or "tell me about a time you failed in life." "What motivates you?" fits into that category, largely because it requires […]
Read More
You've received that coveted call for a job interview and now you are taking time to prepare some solid answers to possible interview questions so that you can land the job - but you're missing one key component. Your verbal responses, although incredibly important, aren't the only things hiring managers are paying attention to in […]
Read More
​Click the ​picture above to see Sari Cantor on CTV Morning Live OttawaWriting your first resume is exciting, but it can also be a bit intimidating. You might be unsure of where to start and what to include but the good news is, having a clear strategy can help you craft a great first resume […]
Read More
The reference process is crucial for an employer, in this episode we discuss some industry tips and tricks regarding this part of the business, join the Recruiting In Motion Team and learn more about this and much more.
Read More
It is important for an employer to determine the right salary range, and things may get tricky when they are hiring for a new role, join the conversation with special guest George ABC in this episode of the Recruiter's Locker Room.
Read More
The day of a recruiter is very eventful, preplanning your day is key in order to make it as effective as possible, join us to learn more.
Read More
Click the image above to watch Recruiting in Motion - Ottawa's Sari Cantor​New year, new job: one of the most common mantras for job searchers in January. The time of new beginnings and self-reflection can be a great period to evaluate your career and think about your future goals, both personally and professionally. But even […]
Read More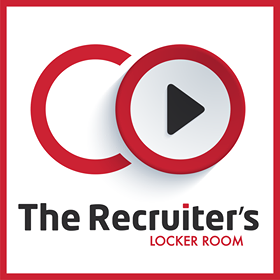 Get ready for fun, unique and informative stories and advice from professional recruiters and industry experts. The lively discussions are geared towards a wide audience including 1) Staffing Industry employees, 2) Human Resource and Sales professionals from all industries, 3) All levels of management, and 4) Anyone looking for a new job /career. Each […]
Read More